Jurassic World: Dominion Dominates Fandom Wikis - The Loop
Play Sound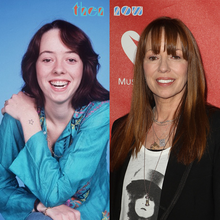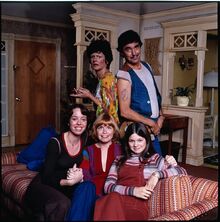 Laura Mackenzie Phillips is an American actress, singer, and author who portrays Pam in the modern One Day at a Time. In the original One Day at a Time series, she portrayed the character Julie Mora Cooper Horvath.
Early Life
Born in Alexandria, Virginia, Mackenzie Philips is the daughter of John Phillips, singer in The Mamas & the Papas, and his first wife, Susan Stuart Adams (1936–2016). She is the sister of Jeffrey Phillips and a half-sister of Tamerlane Phillips, actress Bijou Phillips, and singer Chynna Phillips.
Phillips attended Highland Hall Waldorf School in Northridge, California. At age 12, Phillips formed a band with three of her classmates and was spotted by a casting agent during one of their performances. She was given an audition for a role in the 1973 film American Graffiti, which she won.
Career
Phillips was twelve years old during the filming of American Graffiti, and thirteen when the movie was released. She was cast as Carol Morrison, a young girl accidentally picked up by hot-rodding teenager John Milner (Paul Le Mat). Because of California state law, producer Gary Kurtz became Phillips' legal guardian for the duration of the filming.
Phillips gained stardom in the 1970s when she played boy-crazy teenager Julie Cooper (when the character got married, her married name was Horvath) on the long-running television show One Day at a Time, for which she earned $50,000 (equal to $237,570 today) a week. 
During the show's third season in 1977, Phillips was arrested for disorderly conduct. Because of her drug and alcohol abuse, Phillips began arriving late and was even incoherent for rehearsals. The producers ordered her to take a six-week break to overcome her addiction but were ultimately forced to fire her in 1980.
After two near-fatal overdoses, Phillips voluntarily entered Fair Oaks Hospital for rehab treatment. After she completed treatment in 1981, the producers of One Day at a Time invited her back to the show.
However, in 1982, Phillips resumed her cocaine use, and the following year, she collapsed on the show's set. When she refused to take a drug test, she was fired again, permanently; her character was written out of the series. In 1992 she entered a long-term drug rehab program and underwent intensive treatment for nine months.
From the mid-1980s to the early 1990s, Phillips performed with a re-formed version of The Mamas & the Papas, known as The New Mamas and The Papas.
In 1999, Phillips co-starred with Cara DeLizia in the Disney Channel series So Weird, playing a fictional rock star named Molly Phillips. She sang original songs written by show producers Jon Cooksey and Ann Marie Montade. In 2002, she appeared in the Disney Channel original movie Double Teamed. Phillips guest-starred on episodes of ER, Without a Trace, 7th Heaven, Cold Case, and Beverly Hills, 90210.
Phillips won an Honorary Best Actress award on March 20, 2011, at the closing night awards gala of the Female Eye Film Festival in Toronto, Ontario, Canada, for her performance as Sharon in the 2010 independent film Peach Plum Pear. While in Toronto, she was interviewed on Canada AM, ET Canada, and The Marilyn Denis Show.
She currently works at the Breathe Life Healing Center in West Hollywood, California, as a drug rehab counselor.
Film

| Year | Title | Role | Notes |
| --- | --- | --- | --- |
| 1973 | American Graffiti | Carol Morrison | |
| 1975 | Rafferty and the Gold Dust Twins | Rita "Frisbee" Sykes | |
| 1979 | More American Graffiti | Carol "Rainbow" Morrison | |
| 1982 | Love Child | J.J. | |
| 1998 | True Friends | Connie | |
| 1999 | When | Catherine Brown | |
| 2005 | The Jacket | Nurse Harding | |
| 2011 | Hercules Saves Christmas | Helen Dunn | Alternate title: Santa's Dog |
| 2011 | Peach Plum Pear | Sharon | |
| 2014 | Suburban Gothic | Mrs. Richards | |
| 2014 | Blackout | Sarah | Short film |
| 2014 | North Blvd | Linda | |
| 2015 | Girl on the Edge | Deborah Green | |
| 2016 | Sacred Journeys | Tiff | Short film |
| 2018 | North Blvd | Linda | |
Television
Year
Title
Role
Notes
1973
Go Ask Alice
Doris
Television Film
1974
Movin' On
Chessie
Episode: "Roadblock"
1975
Miles to Go Before I Sleep
Robin Williams
Television film
1975
Baretta
Mindy
Episode: "On the Road"
1975
The Mary Tyler Moore Show
Francie
Episode: "Mary's Delinquent"
1975–83
One Day at a Time
Julie Mora Cooper Horvath
123 episodes


Main cast (Seasons 1–5) Recurring role (Seasons 7–9)

1976
Eleanor and Franklin
Eleanor Roosevelt, age 14
Television film
1978
The Love Boat
Allison Scott
Episode: "The Big Deal"
1979
Fast Friends
Susan
Television film
1979
The Incredible Hulk
Lisa Swan
Episode: "Metamorphosis"
1980
The Silent Lovers
Lillian Gish
Television film
1982
The Love Boat
Rachel Johnson
Episode: "Gopher's Roommate"
1985
Murder, She Wrote
Carol Needom
Episode: "Murder in the Afternoon"
1986
Kate's Secret
Deyna
Television film
1994
Beverly Hills, 90210
Counselor Ellen Marks
Episode: "Intervention"
1995
Melrose Place
Maureen Dodd
Episode: "Melrose Impossible" & "A Hose by Any Other Name"
1996
Guiding Light
Rachel Sullivan
4 episodes
1996
NYPD Blue
Mary Donaldson
Episode: "Sorry, Wrong Suspect"
1997
Caroline in the City
Donna Spadaro
Episode: "Caroline and the Singer"
1997
Walker, Texas Ranger
Ellen Simms
Episodes: "Lucas" (Parts 1 & 2)
1998
Chicago Hope
Valerie Boyd
Episode: "Risky Business"
1998
Viper
Heidi Rosen
Episode: "The Full Frankie"
1999–01
So Weird
Molly Phillips
63 episodes


Main cast (Seasons 1–3)

2000
The Outer Limits
Boo Weston
Episode: "Down to Earth"
2001
Kate Brasher
Tracy Del Rey
Episode: "Tracy"
2001
Crossing Jordan
Elaine Stahler
Episode "The Dawn of a New Day"
2002
Double Teamed
Mary Burge
Television film
2002
ER
Leslie Miller
Episode "Damage Is Done"
2003
The Division
Carol Johnson
Episode: "Thus with a Kiss I Die"
2004
Without a Trace
Theresa Caldwell
Episode: "Lost and Found"
2004
NYPD Blue
Lorraine Stuval
Episode: "Fish Out of Water"
2004
7th Heaven
Allison Davies
Episode: "Why Not Me?"
2005
One Day at a Time Reunion
Herself
Television special
2007
Cold Case
Sheila Swett
Episode: "That Woman"
2009
Radio Needles
Tonya Taylor
Television film
2012
Interns: The Web Series
CEO
Episode: "Accepted"
2012
Criminal Minds
Ellen Russell
Episode: "The Pact"
2012
She Made Them Do It
Jamie Long
Television film
2014
Phineas and Ferb
Female Judge / Jump Instructor (voice)
Episode: "Act Your Age"
2014
The Daily Helpline
Herself Co-Hostes
Episode: "Mackenzie Phillips"
2015
Hot in Cleveland
Kaylin
Episode: "About a Joy"
2016–18
Milo Murphy's Law
Principal Elizabeth Milder (voice)
7 episodes


Recurring role (Seasons 1-2)

2017
Battle of the Network Stars
Herself
Episode: "TV Moms & Dads vs. TV Kids"
2017–19
One Day at a Time
Pam Valentine
7 episodes


Recurring role (Seasons 1–3)

2018
Orange Is The New Black
Barbara "Barb" Denning
6 episodes


Recurring role (Season 6)
Stage

| Year | Title | Role | Notes |
| --- | --- | --- | --- |
| 1994-98 | Greese | Betty Rizzo | Broadway Touring Revival |
| 1999 | The Vagina Monologues | Performer | Westside Theatre |
| 2001–02 | A Delicate Balance | | Ford Theatre |
| 2002 | Same Time, Next Year | | Shubert Theater |
| 2004–05 | How I Learned to Drive | | Alex Theatre |
| 2005–07 | Annie | Lily St. Regis | Touring revival |
Published Works
High On Arrival (2009)
Hopeful Healing: Essays on Managing Recovery and Surviving Addiction (2017)