"I can assemble a rifle in 13 seconds. I'm a total bad ass"
—Lupe, This Is It
Penelope Francisca del Carmen Riera Inclán Ruiz Maribona de Alvarez
is a central character on the Netflix Original Series
One Day at a Time
. She is portrayed by
Justina Machado
.
Penelope Alvarez is the mother of Alex and Elena as well as the daughter of Lydia. Currently, she works as a nurse practitioner (NP). She was formerly a Staff Sergeant in the United States Army, where she was deployed as a medic in Afghanistan with the 101st Airborne, subsequently hurting her shoulder. Because of her experiences as a soldier and a single mother, she struggles at times to feel like she belongs. In One Day at a Time, Penelope accepts that she needs the anti-depressants that were prescribed to her. Penelope admits she isn't sure she believes in God which Lydia struggles to accept. She is a "soon to be divorcee" of Victor, the father of both Elena and Alex. She works as a nurse practitioner under Dr. Berkowitz. She went to school to become a nurse practitioner. That's where she met Max, her new boyfriend. She eventually breaks up with him since he said he wanted kids. Penelope didn't, and couldn't take that away from him.
Memorable Quotes
Edit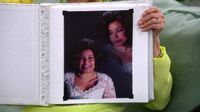 "Mami, no!" (When Lydia pushes her over and climbs into her bed, as a result of her spooning her.)
"Well, they don't want them. Clean it, Papito" (To Alex when he has a box of candy planned for Dr. Berkowitz' birthday party.)
"She's been here most of the week. Can she only survive in this apartment's atmosphere?" (To Elena when she doesn't want her to send Carmen home.)
"Alex, you know Mrs. Resnick doesn't go faster. Unless we're going downhill, then she can't stop." (To Alex when he tells her to drive faster to his baseball game.)
"And you, when you get a stroke and don't die, you tell people." (To Lydia when she tells her she lies even more than she does.)
"Oh My God! Stop saying what I'm trying to say! You mansplaining, microaggressive, bobo cabron!" (To her coworker who is presumed to be sexist)
"You better check your tone." (To Alex when he gets picked up from school by her for an incident)
"His class went on a field trip to the observatory, and he punched a kid from another school." (To Elena and Lydia, telling the story about how Alex got suspended from school)
"You know? I've had it with you and your teen crap. I'm not raising a jerk." (To Alex, scolding him for the school problem)
Penelope is seen wearing a wedding ring for most of Season 1 but never again.