Jurassic World: Dominion Dominates Fandom Wikis - The Loop
Play Sound
Season 4 is the fourth and final season of One Day at a Time.
Synopsis
One Day at a Time is a hilarious and heartfelt comedy that follows three generations of a Cuban-American family navigating the ups and downs of life.
Netflix Cancellation, Move to Basic Cable, and Pop
On March 14, 2019, Netflix announced that the series had been canceled after three seasons. After the cancellation announcement, executive producers Gloria Calderón Kellett and Mike Royce began the search for a potential new home on another streaming service or network. All the while fans of the series began a campaign using the hashtag #SaveODAAT in hopes of getting the series revived.
Not long after the announcement, the show's producing studio Sony Pictures Television entered in talks with CBS in hopes of a revival for the series to air to the network's streaming service CBS All Access. A clause in Netflix's contract with SPT, however, prevents another streaming provider from carrying new episodes of the series for a period of two to three years, excluding traditional cable or broadcast networks. This complicated any agreement which used that avenue to continue the series.
On June 27, 2019, it was announced that Sony Pictures Television and CBS Corporation came to terms to continue the series for a fourth season with 13 episodes, which will air on CBS's Pop network in 2020. CBS also acquired traditional syndication rights, allowing it to share the previous three seasons with Netflix and air them as part of the schedules of not only Pop but the CBS Television Network to build buzz for the new season.
The series writers have confirmed the show is cancelled due to COVID.
Episodes
#

Image

Title

Airdate

1.

"Checking Boxes"
March 24, 2020
After a census taker comes to the house, the Alvarez family reflects on their relationships and wonder what else the future may (or may not) have in store.
2.

"Penny Pinching"
March 31, 2020
After a disastrous evening, Penelope realizes she needs to change her relationship to money and do the unthinkable—buy something new. Meanwhile, Elena struggles to make it to an important e-sports match.
3.

"Boundaries"
April 7, 2020
Alex catches his mother in a compromising position, motivating Penelope to talk to him about healthy human sexuality while defending herself against Lydia's old-school judgments.
4.

"One Halloween at a Time"
April 14, 2020
It's a very scary Halloween when Lydia discovers something life-altering in the kitchen trash. Schneider and Avery are determined to win an elaborate costume contest.
5.

"Perfect"
April 22, 2020
Alex needs a large amount of money right away, worrying Penelope. Schneider and Avery must contend with an unwanted gift from Doctor Berkowitz.
6.

"Supermoon"
April 28, 2020
When a supermoon appears in the night sky, all the Alvarezes and their significant others discover an elaborate romantic setting, fit for a marriage proposal. Who is it for? Only the moon knows!
Special

"The Politics Episode"
June 16, 2020
Penelope's conservative family is visiting. Penelope dreads that with the election coming up, they won't be able to avoid fighting over politics. The Alvarez family spends the episode discussing strategies of how to get through it, illustrated through fantasy sequences.
Cast
Producers
Mike Royce
Michael Garcia
Brent Miller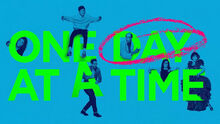 Trivia
Since Pop TV, unlike Netflix, airs on a cable channel, episodes have to be 21-minutes long to fit the time frame, meaning the 50-second theme song has been edited down significantly and been given a revamp with a title card more suited to Pop TV's branding, and the extra seconds will be redistributed to the show itself.[1]
All 13 episodes of the season have been written, but only the first six episodes were filmed before filming had to be postponed due to COVID-19 concerns in spring 2020, meaning that after Supermoon, the show is going on a hiatus.
Gallery
Media